ADL Tweets Honored Two Men Who Sound Just Like Farrakhan!
Both of the ADL's Black History Month Tweets Honored
Two Men Who Sound Like Farrakhan!
The ONLY TWO Black History Month 2018 tweets by the ADL's Jonathan Greenblatt honored two men whose religious views are far more aligned with Farrakhan's than with the ADL's. If he knew what they REALLY believed Greenblatt would call Frederick Douglass and W.E.B. Du Bois "haters" and "anti-Semites":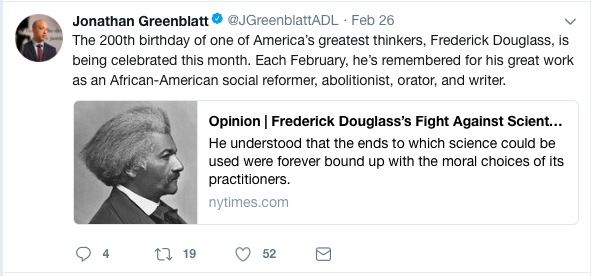 FREDERICK DOUGLASS:
"Between the Christianity of this land and the Christianity of Christ, I recognize the widest possible difference—so wide that to receive the one as good, pure, and holy, is of necessity to reject the other as bad, corrupt, and wicked. To be the friend of the one is of necessity to be the enemy of the other. I love the pure, peaceable, and impartial Christianity of Christ; I therefore hate the corrupt, slave-holding, women-whipping, cradle-plundering, partial and hypocritical Christianity of this land. Indeed, I can see no reason but the most deceitful one for calling the religion of this land Christianity…"
---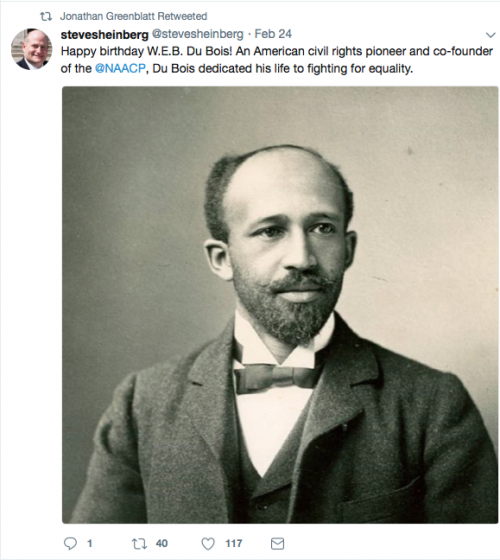 W.E.B. Du Bois
The erudite Du Bois devoted nearly all of his 95 years to the uplift of Black people. While in Georgia he surveyed the businesses, mills, and factories and came to a startling conclusion: "The Jew is the heir of the slave-baron." He spoke of the exploitation of Blacks by the "shrewd and unscrupulous Jews" and penned what was one of the first written eyewitness testimonies describing the true exploitative nature of the Black–Jewish relationship.
When Du Bois published these observations in a book called The Souls of Black Folks, he was called an "anti-Semite," but a government study confirmed that Du Bois was spot on. The report revealed that in the middle of Black Georgia, "Nine-tenths of the storekeepers in Dougherty County are Jewish merchants—some Russian and German Jews, but most of them Polish Jews."
Prominent Jews then pressured Du Bois to change the word "Jew" to "foreigner" or "immigrant." They didn't deny the truth of his observation, but demanded that he conceal this critical Jewish role from his Black readers. Even today one can find copies of the book with these sleight-of-hand variations of the original words. Read more in The Secret Relationship Between Blacks and Jews.