Pamela Geller's Jewish Philadelphia Jihad Started Three Centuries Ago: Ends Today
Pamela Geller's Jewish Philadelphia Jihad Started Three Centuries Ago: Ends Today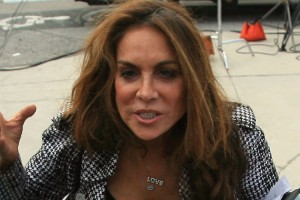 The American Jewish leader Pamela Geller is on an impossible mission to destroy Islam. Her best attempt at that unworthy goal is not to engage Muslim leaders to dialogue "with wisdom and goodly exhortation," but to foment disunity. Geller is from the Charlie Hebdo school of interfaith relations, and through her so-called American Freedom Defense Initiative organization she has paid for an ad campaign and plastered her badly mangled interpretation of the Holy Quran on 84 Philadelphia buses. The ads feature a photograph of the Palestinian activist Haj Amin al-Husseini sitting with Adolf Hitler in 1941. Usually the deploying of the image of Hitler in such a manner earns stern rebukes from the Jewish leadership but just the opposite has occurred. Philadelphia District Court Judge Mitchell Goldberg ruled that a rejection of the ads by the Philadelphia bus company would violate Geller's First Amendment right of "free speech."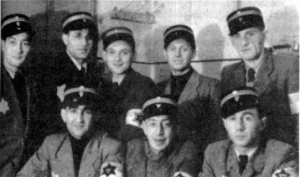 If one were so inclined to slander Judaism, one could just as easily have placed 77 ads depicting the 77 Nazi Jews who were officers in Hitler's army, or ads showing the photos of the smiling members of the Judenrat, the Jewish police force that was in charge of
rounding up fellow Jews for shipment to the death camps. They even had uniforms and star-of-David arm badges (see photo). No Muslim has ever claimed those Jews to be representative of the Jewish religion. But after Geller's campaign to slander Islam, maybe they should.
Turns out, Pamela Geller is following a grand Hebrew tradition that can be traced to the early pioneers of Philadelphia's Jewish community. The Jewish founding families appear in city records as early as 1703, and they also loved to place paid political advertisements that expressed their religious and racial points of view. More than three generations before the liberty bell was rung in the steeple of the Pennsylvania State House to signal an alleged "freedom for all," Jews became wealthy and powerful in the City of Brotherly Love. Through an examination of the advertisements they placed in the local colonial papers, we can see the chilling Judaic connection they have with the race-baiting Pamela Geller of today.
Jonas Phillips was a founder of Philadelphia's original synagogue, Mikveh Israel. In February of 1792, he placed an advertisement in the city newspaper to track down his "Negro Woman Slave" who "took nothing with her but the clothes she had on." Acco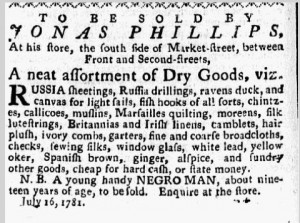 rding to the ad, which offered a two dollar reward for her capture, Phillips was willing to forgive her for seeking her God-given freedom—or, as he put it, "absconding." In another public notice he was selling "A young handy NEGRO MAN, about nineteen years of age"—a human being as a regular in-stock item, along with fish hooks, silks, ginger, linens, and other dry goods.
All of the early Jewish Philadelphians forced Black human beings into slavery. Even the city's Ashkenazi rabbi owned African slaves. Two Jewish historians reviewed this despicable human rights record and concluded: "The Jews who could afford them had both servants and slaves. The Quakers were the only people who as a religious denomination opposed the institution of slavery."
And speaking of Hitler, Levy Andrew Levy was part of a massive Indian trading operation based in western Pennsylvania. It was Levy who participated in the extermination plot against the Indians by providing them with blankets deliberately laced with smallpox.
Back the

n Philly didn't have a bus system, but Jewish merchant David Franks had some ships that a Geller of his time would have gladly placed her ads. In 1761 Frank's schooner Hannah was docked on the Delaware River with a "Cargoe of Likely Negroes Just Imported Directly from Guiney" for sale.
In her A Key to Uncle Tom's Cabin a disgusted Harriet Beecher Stowe mentions the Jewish slave traders that set up shop in Philadelphia. She called the Davises
"the great slave-dealers. They are Jews [who] are always in the market, giving the highest price for slaves. During the summer and fall they buy them up at low prices, trim, shave and wash them, fatten them so that they may look sleek, and sell them to great profit."
Geller's people weren't just slave trading Black human beings, they further secured their wealth by becoming key pillars in the supply chain that kept the Southern slave system in operation. Scholar Elliott Ashkenazi wrote that Southern plantation suppliers looked to the "hundreds of Jewish wholesalers" based in New York, Philadelphia, and Baltimore to sell all they needed to keep a stolen African people producing cotton—the most valuable crop the world had ever seen.
When the Civil War threatened to break apart the nation, Philadelphia Jews spoke often and ardently for the Confederacy and the maintenance of Black slavery. Local Rabbi Sabato Morais spoke against slavery he was muzzled, according to Ismar Elbogen, "by the timid leaders" of his congregation. B'nai B'rith leader Dr. Solomon Solis-Cohen blamed Blacks in America for their own lynchings. Jewish Texan Jacob De Cordova visited his Jewish brethren in Philadelphia in 1858 to entice Jews to settle in Texas, where "By a wise provision of our state constitution, the institution of slavery has been guaranteed."
The Geller Islamic hate ad is probably running on Philly bus route "R," which will take you down West Hunting Park Avenue and right by Simon Gratz High School. The Gratz family was closely connected with the Hays, Moses and Franks families in their slav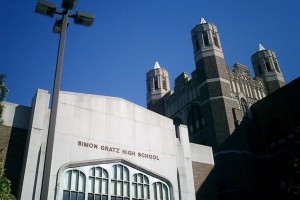 e-shipping businesses. Michael Gratz's wife Miriam wrote a letter to him dated June 2, 1777—one month short of the original Fourth of July—that reminded: "Dont forget your promise in getting me a negro boy or girl if to be had, as servants is very scarce. [sic]"
But that is not the worst of it. Bernard Gratz's slave overseer wrote to his boss in 1772 about a troublesome early, early colonial FOI named "George." He had tried to sell him at auction but
"he protested that he would not be sold, and if anyone should purchase him, he would be the death of him, which deterred the people from bidding….[H]e behaved himself in such an insolent manner I immediately sent him back to the jail with directions to the jailer to keep him at hard labor, which he refuses to do, and goes on in such an insolent manner that it is impossible to get a master for him here….He's now almost naked, and if not furnished soon with some clothes, I fear he'll perish. P.S.: He's now chained and handcuffed on account of his threats."
Let us put up our own Philadelphia bus ads and declare July 4, 2015, "BROTHER GEORGE DAY" in honor of a true hero that represents the Muslim spirit of Philadelphia Freedom!
Imam Mikal Shabazz, of the Philadelphia-based Masjidullah, says that Geller has provided a teachable moment. Sis. Kameelah Mu'Min Rashad, of the advocacy group Muslims Make It Plain, echoes the Imam, saying that Geller "actually has given us a gift" by helping to achieve Muslim unity, and "encourages us to work together as one ummah or community." This is beautiful language that we should heed.

One of the things we do know from Jewish history is that they built their massive power all over America through unity: they worked in a collective manner to run a goodly portion of the slave system, the cotton trade, the sugar trade, and to established the financial infrastructure that secured it all. We too can build on our interdenominational efforts to unify as a Muslim ummah and generate a financial platform of our own—without kidnapping and exploiting human beings or chasing after runaways. Minister Farrakhan said it so beautifully: "Let's be Muslims every day of the year, thinking of the poor and the weak, and the orphan, and the man that is 'in the dust'; and let us go and 'free a slave,' and awaken the masses." The Geller debacle in Philadelphia is a mighty, mighty step in that direction.
[NOTE: This unfortunate Jewish human rights history goes far beyond Philadelphia and is well documented in The Secret Relationship Between Blacks and Jews, vols. 1 & 2, and the companion volume of slave-sale ads titled Jews Selling Blacks.]
-30-