Israelis Behind 9-11? Interview With Christopher Bollyn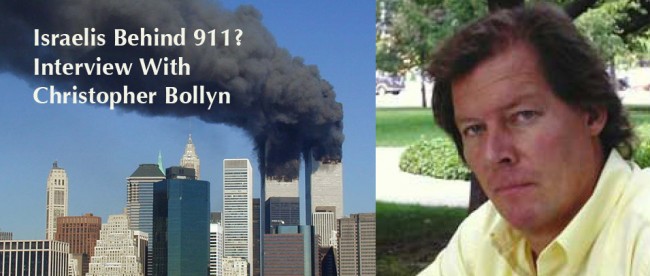 Christopher Bollyn is an American journalist who has investigated the events of 9-11. He has tied many loose ends and convincingly argues that 9-11 was a false flag operation with the Israeli Mossad deeply involved in its execution.
In August 2006, Bollyn was attacked at his home in Hoffman Estates, Illinois, by a heavily-armed three-man team of undercover police that had been prowling around his house for several days in a row. The result of the police assault on Bollyn was that he was falsely charged with assault and resisting arrest; both misdemeanor charges. He pled innocent and went through a four-day trial in which the police openly lied and presented false evidence. Bollyn's evidence, on the other hand, was not allowed to be presented and his expert witness was not allowed to testify. After the seriously flawed trial, Bollyn was found guilty of both charges and faced sentencing from the same judge who had overseen the trial.
Rather than submitting themselves to injustice the Bollyn family left their home near Chicago and moved to Europe in June 2007. He then wrote a set of books based on his 9-11 research titled Solving 9-11: The Deception that Changed the World. Available at bollyn.com.
Listen to the interview: 
VIDEO EVIDENCE:
MUST WATCH: MISSING LINKS http://www.911missinglinks.com