After Lincoln: A Racial Orgy of Terror & Violence
"Read some of their books as to what was done against our slave parents by the fathers of these modern murderers of ours."
—The Most Honorable Elijah Muhammad
Message To The Blackman in America
The condition of Blacks in America after the so-called Emancipation was hell indeed. The total repression of at least four million ex-slaves who believed themselves to be free could never have been achieved without violence. Wholesale killings of Blacks occurred across the South with alarming frequency and shocking depravity. Most of these open racial slaughters resulted from attempts by Blacks to assert their citizenship rights, such as by voting or seeking political office or by acquiring land or education, as well as other unwelcome manifestations of Black progress. But much of it was just pure race hate. As one scholar wrote of postwar whites: "They loathed the Negro and…were ready to hunt him like an animal." So many Blacks were slaughtered in one incident in a Texas county that "vultures became a nuisance."
In Memphis, Tennessee, in 1866, a mob of whites was said to have exhibited "a deadly hatred of the colored race" as it joined police officers in murdering at least 46 innocents and injuring 285. Rampaging whites raped Black women and burned four Black churches and twelve Black schools. In New Orleans, Louisiana, that same year, white mobs murdered 34 and injured more than 200.
Similar incidents occurred in Pulaski, Tennessee; Opelousas, Louisiana; Eutaw, Alabama; Laurens, South Carolina; and Camilla, Georgia. Officially, 54 racist murders were recorded in Mississippi in 1869, and 83 in 1870. In 1871, every schoolhouse for Black children in Winston County was burned, and in Meridian thirty Blacks were killed. In that year, a U.S. government investigation concluded that the Ku Klux Klan was assaulting Blacks and "torturing them in the most inhuman manner," but officials did little to abate the violence.
In 1868, whites began a killing spree in Shady Grove, Louisiana, and indiscriminately murdered up to 200 innocent Blacks. On Easter Sunday of 1873 in Colfax, Louisiana, "[t]he bloodiest single instance of racial carnage in the Reconstruction era" occurred when 280 Blacks were left for dead, sixty of them "terribly mutilated" and strewn throughout the countryside. Thirty-four others had been taken to a riverbank and shot through the head. Authorities tried none of the perpetrators, claiming the massacre was "a justifiable assertion of white supremacy." Several Black men were murdered by a mob of 300–400 white men in an 1874 massacre in Coushatta, Louisiana.
In 1874–75, after years of violence, white Mississippians overthrew the legally constituted interracial government. As many as 300 Blacks were murdered (along with 2 whites) in Vicksburg in two separate incidents in 1874 when whites on a killing spree swept the county. Between 35 and 50 Blacks along with radical white leaders were slaughtered in Clinton in September 1875.
In 1874, a murderous mob of 400 armed Tennessee whites stormed the Trenton Jail and massacred all 16 of the Blacks confined there. Their bodies were found at the bottom of a river a mile away. In 1876 in Hamburg, South Carolina, whites forced their way through a group of parading Black militia. Two dozen of the Blacks were arrested and five were murdered while in custody—they were told to run and then shot in the back. In Ellenton, federal troops helped local whites slaughter at least 40 Blacks, including a legislator in the state's House of Representatives. In Charleston, five hundred white vigilantes converged on Blacks, killing one and wounding eleven.
In 1884, a white mob murdered 56 people in Cincinnati, Ohio, and burned down the city's courthouse. In 1887, in what has become known as the Thibodaux Massacre, Louisiana whites slaughtered as many as 300 Black sugar plantation workers because they were organizing for better conditions. In 1890, a North Carolina mob of 400 white men, "led by prominent citizens and public officials," killed and wounded an untold number of Blacks.
And this is merely a sample of the documented violence against Blacks. Much of the bloodshed went unreported or was concealed in the nightriding rituals of the many Caucasian secret societies and vigilante organizations spun off from the Ku Klux Klan. By 1893, almost thirty years after "emancipation," Blacks in the South were being murdered at a rate of at least one every 40 hours.
Today this violent and oppressive "Jim Crow" history is represented in popular culture as no more than the mere inconveniences of water fountain and lunch counter discrimination. But this masks the real purpose and devastating effects of the many violent acts of white supremacy: the destruction of any Black aspirations for economic self-development, the confinement of the African to forced plantation and domestic labor, permanent political subjugation, and perpetual societal inferiority.
Map: The Secret Relationship Between Blacks & Jews, Vol. 2.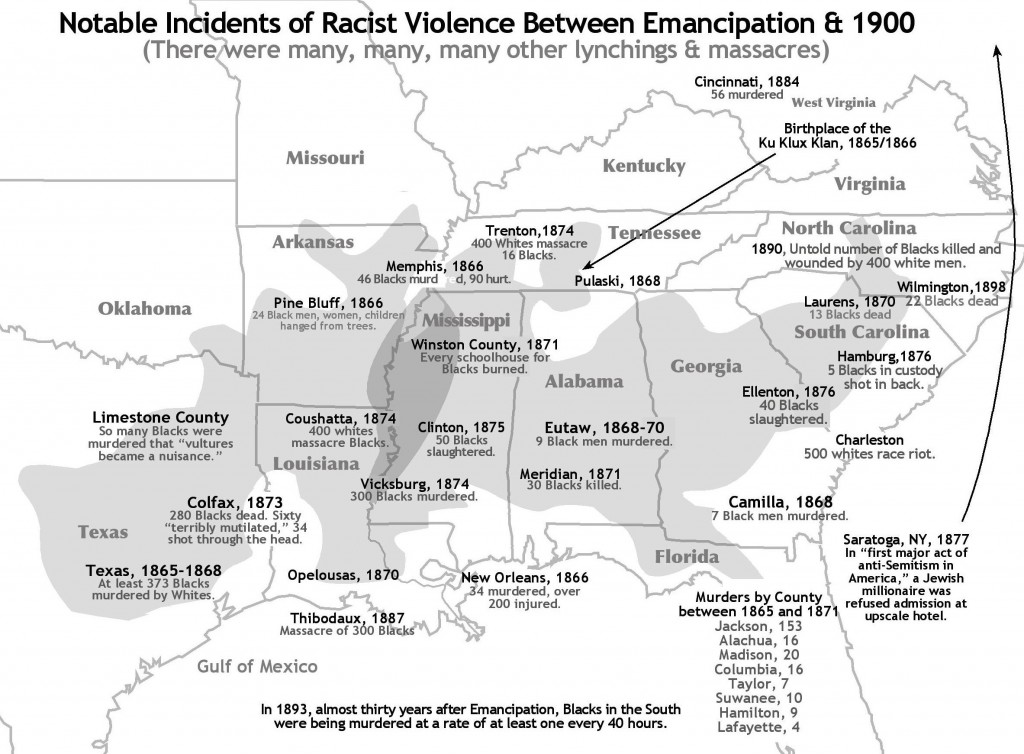 ---